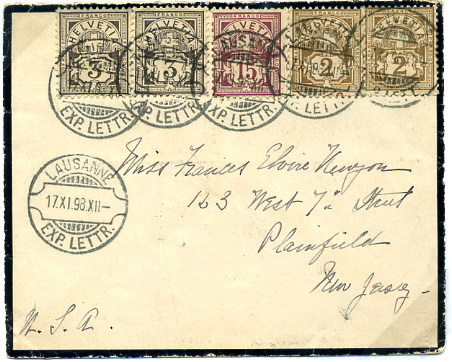 In 1866 Güller & Sons made the first rotating date-wheel cancelers for Swiss Post, Telephone, and Telegraph (PTT). Twenty-three years later in 1889 Frédéric de Coppet patented his first flexible-head canceler mechanism combining both technologies. His patent described the most significant canceler design in the history of the Swiss PTT. These handmade test cancelers were named "razor" cancelers by British collectors in the 1970's and have become known as "rasierklingenstempel" in Switzerland.
Gold Medal – Lugano, Switzerland.
Swiss National Exhibition held every 6 years.
NABA 2018 Switzerland
(.pdf 96 page 28.2MB download)
Link to Power Point Presentation:
DeCoppet Razor Cancels of Switzerland – 34.3MB download.
This exhibit won the Grand Multiframe Award and Large Gold at PIPEX 2017, Portland, OR, plus Postal History Society Medal, qualified for Champion of Champions, StampShow 2017, Richmond VA.
The exhibit in various forms has won over 10 Gold Awards since 2007, including Stampshow 2007, Garfield-Perry 2008, WESTPEX 2012, PIPEX 2015, and Large Gold PIPEX 2021 (virtual show). August 2021 WESTPEX Multiframe Reserve Grand, Large Gold.